Well this darling girl has more creativity spilling out of her pretty braids than I could ever conceive of possessing!  This sweet soul is Rosaura of Pigment & Parchment – and once you meet her you'll adore her beautiful charm as much as I do!
After discovering Rosaura on Instagram I was compelled to meet her for coffee once I knew she was a local. And, I have since taken one of her watercolor classes which was a creative BLAST!  Taking time to create more for myself was one of my resolutions for the New Year and this lovely lady helped me start it off!  She's also getting into the styling business and we'll be collaborating on a baby soiree for my best friend – I cannot wait to see what we come up with!  I'll be sure to post pics!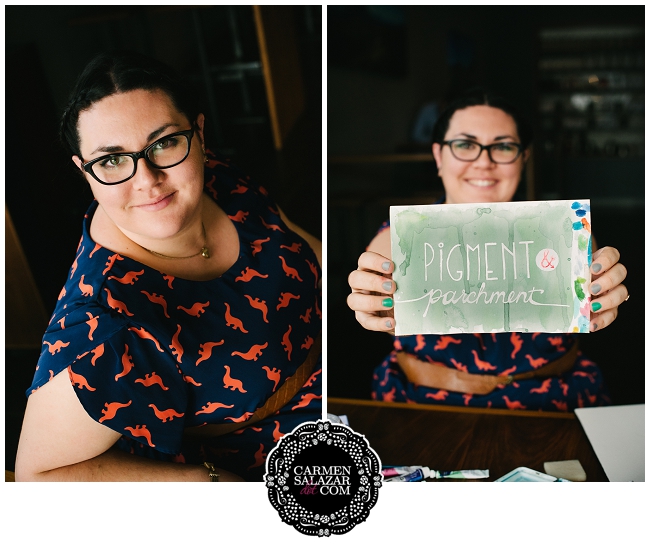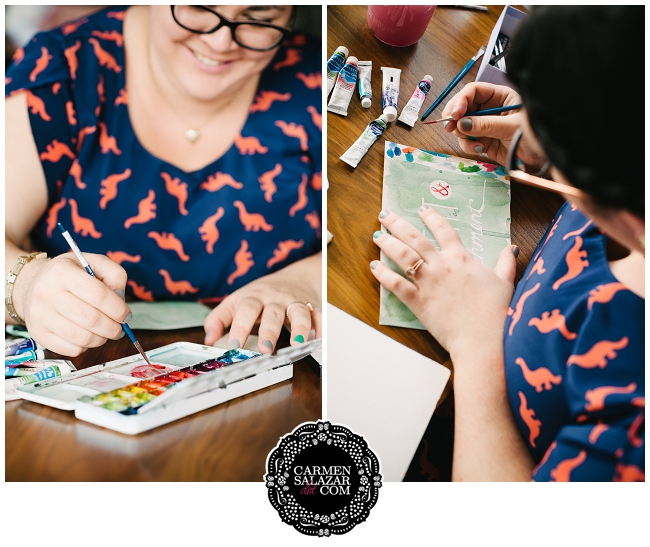 Curious to learn a little more about this creative beauty…read on!
So how did Pigment and Parchment all begin?!  P&P started at the end of 2013. After coming out of her travels around the country with her husband as he found a new job after college – she felt she needed something to ground herself as they were figuring out where their feet would land.  Art has always been her meditation, her therapy, her happy place.
What makes Rosaura tick? She is focused on telling people's stories through her art and creations. Planning and designing her own wedding really inspired her to want to do it for others.  Creating those personal details for others to share their love story with their guests is the experience she wants her clients to have.
What does P&P use to translate a client's vision and story?  Rosaura uses a lot of watercolor, painting, illustrations and typography.
What's Rosaura's current artistic obession? Watercolor is capturing a lot of her attention these days but a pad of paper and a micron pen will keep this girl's creative heart happy
Where does she find her inspiration?:  She is constantly looking for quirkiness in life, smart functional design, old movies, mid-century modern design and her love of thrift shopping
When is she most creative?: Rosaura's a crazy night owl but trying to reign it in to be a mid-day owl (you and me both girl!)
Her next dream travel destination?: India…COLOR COLOR COLOR…everywhere! It's the heart of pigment in her eyes. She would love to go to the pigment factories to see the process and experience all of the color in the textiles. A dream color journey!
Favorite movie: Meet Me in St. Louis
And in case you were wondering…her power animal is a Sea Horse 🙂  How can you not love this girl!