Why Bridal Boudoir? 
Whether you're newly engaged or plan on walking down the aisle very soon, you know that any dream wedding takes careful planning. Finding the best wedding photographer, the perfect venue, a beautiful wedding dress, and floral arrangements are considered must-haves for a perfect wedding, but one thing that tends to be forgotten is a bridal boudoir shoot. 
Boudoir photography is an amazing way to reclaim your body and celebrate yourself. For any bride-to-be, a bridal boudoir look-book makes the perfect gift for your future spouse. We get it – dressing up in lingerie may be intimidating at first, but with the right boudoir photographer and attitude, it can be an incredible experience.
Best Bridal Boudoir Outfits
Once you've booked your boudoir session, you'll need to figure out what to wear! Don't worry, we're sharing some pieces you should incorporate in your bridal boudoir session. 
1. The "Groom's Shirt" 
An oversized button-down shirt is a classic boudoir look that does not get enough credit! Anyone can pull off this look. Sneak one of these bad boys out of your partner's closet, he'll thank you later!

2. Your Veil & Garter
Wearing your veil and garter in your boudoir session clearly says bride-to-be but in a seductive way. You can't go wrong with these accessories! It's elegant, simple, and will spark more excitement for the big day. 
3. Lace on Lace
There's something extremely sexy about white lace, whether it's on a bodysuit, a bralette, a corset, or a bra. Lace looks amazing on everyone. Say 'I Do' to the looks below!

How About Nothing At All? 
With the right pose and accessories, going nude can make for a tasteful look. Try going bare with your veil, garter, or even play around with some sheets. Our team at Carmen Salazar Photography will capture all the features you love most about yourself.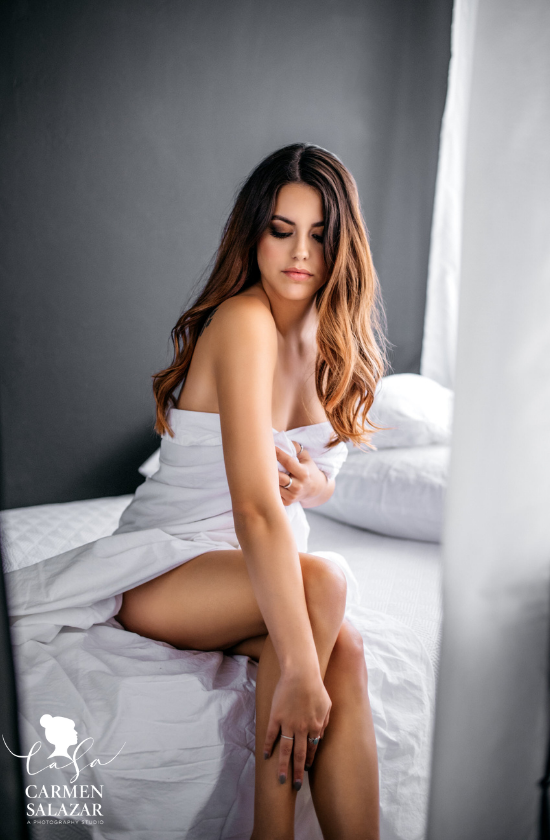 Book Your Bridal Boudoir Photography Shoot Today
A bridal boudoir shoot is a perfect addition to your wedding plan. You deserve to feel sexy and confident before you walk down the aisle, and what better way to do that then your own boudoir shoot? 
We can't wait to make your boudoir dreams come to life! If you're in need of a NorCal Boudoir Photography, contact Carmen Salazar Photography. We can chat about making your boudoir dreams come true!