Boudoir photography can make you feel empowered, more beautiful, and sexier than ever. So why not include your partner in on the fun? Before you start running for the hills, hear us out. Couples boudoir photography session can be one of the most intimate experiences if you have a trustworthy photographer and a safe environment. Here are some reasons why couples boudoir photography with Carmen Salazar is a must.
Why Every Couple Need Couples Boudoir Pictures
Bonding Experience for the Books
It can sometimes be challenging to show your partner the tender love and care they deserve, even in the comfort of your own home. But there's something about acts of trust and vulnerability that bonds you forever. When you say yes to couples boudoir, not only are showing that you're all in, but you're saying, "We're in this together." When you trust Carmen Salazar Photography as your NorCal boudoir photographer, you two will walk away with stunning photos and feel closer than ever. 
A Perfect Amount of Sexy
The best part about working with Carmen Salazar Photography is that you can be as modest or risque as you'd like. It's whatever you two are comfortable with. Whether it's a sexy lingerie number, your favorite camisole, or going completely nude, at the end of the day, your couples boudoir session should be an intimate reflection of you as a couple.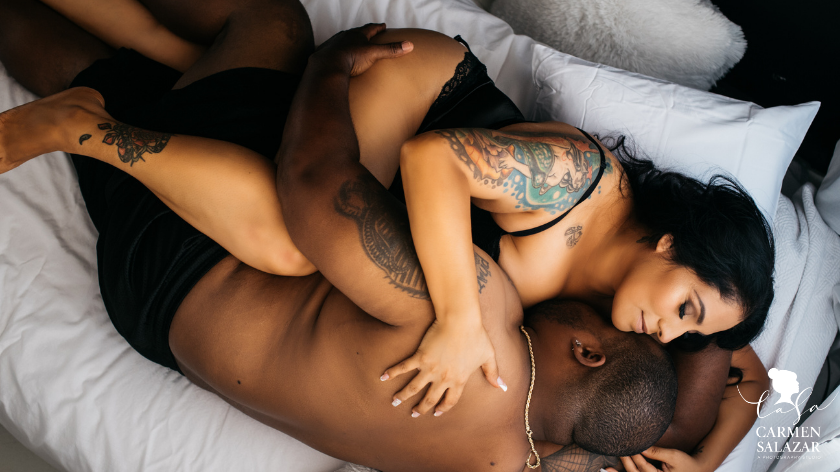 Couples Boudoir is Fun
You'll feel nervous at first, just like you would for any boudoir session. But once the 10 minutes of being in your head have passed, you'll realize how much fun it is.
At Carmen Salazar Photography, we want you to feel like the sexy and confident person you are! One trick to killing any awkward vibes is bringing in your own playlist! Music will help set the mood and make you feel even more empowered. 
How to Get the Most Out of a Couples Boudoir Session
Think of us as Movie Directors
If you can't seem to wrap your mind around doing a couples boudoir session, just consider us your movie directors. We would never throw you in front of the camera, expecting you to know what to do! Our team is here to guide you every step of the way. It's our job to make sure you're having fun and feeling sexy in your own skin. Combine this with chemistry, and it makes for some incredible photos. 

Be Open and Honest
It's so important to be open and honest with both your partner and your boudoir photographer before, during, and after your photoshoot. Before your session, talk about what you want to be captured and what you don't want to be captured. Our team will never push you into doing something you're not comfortable with. When the communication is there, it sets the expectations and helps avoid any awkward moments down the road. If you have any questions or concerns, let us know! We're always happy to help.
Keep a Good Attitude
Nothing kills a steamy boudoir shoot like a bad attitude! This is supposed to be a special experience that you can look back on for years to come. Let's keep an open mind and heart throughout the shoot. When you bring the "We're in this together" attitude, it helps your photographer work their magic. 
Plan Your Wardrobe
Trying new things can be scary and stressful! Planning your couples boudoir wardrobe will help you cross off one of your to-do's. Couple boudoir sessions are much different than solo boudoir sessions. In a solo boudoir session, the focus can be what you're wearing, or in some cases, not wearing. In comparison, couple boudoir photography focuses on posing with another person. So, we recommend avoiding any intricate or complex numbers. In this case, less is more! If you're not sure what style you're wanting, Carmen Salazar Photography can help you plan beforehand. 

Don't Forget Your Couples Boudoir Photos
When your boudoir session is all said and done, you'll be able to look back on your photos and remember how you two felt together. 
Are you interested in booking a couples boudoir photoshoot with Carmen Salazar Photography? We also offer other photography services in Northern California, such as solo boudoir photography, wedding photography, and engagement photography. Contact us today to learn more!