Planning a Last-Minute Elopement
A big extravagant wedding isn't for everyone. That's why so many couples decided to elope. Carmen Salazar Photography had the pleasure of interviewing Chloe, who planned her elopement in only 6 DAYS! Read the below for insight on last-minute elopement ideas! 
About Chloe's Elopement Journey
As a couple, they were losing sight of why they wanted to get married in the first place. After being fed up with planning, they decided to re-focus on what was really important – getting married to each other. They knew eloping was the right thing to do, especially after finding out the backup plans weren't going to cut it.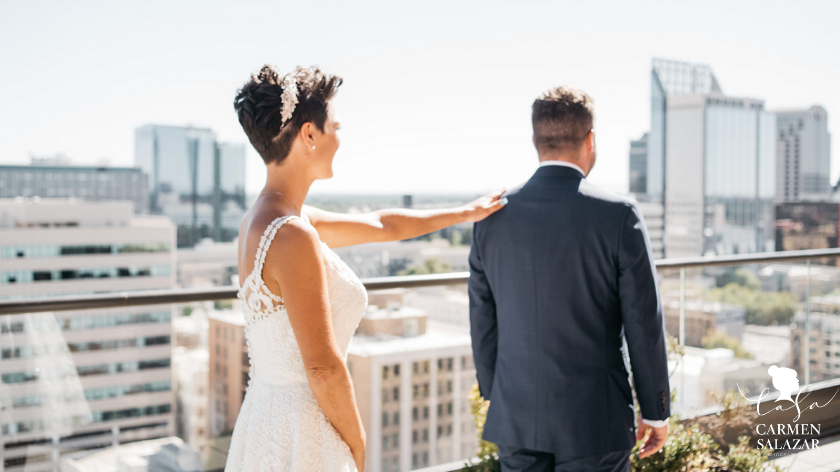 Searching for Elopement Ideas
Chloe wasn't able to do any research before deciding to elope. #JustDoIt. She messaged the courthouse to see if getting married was even a possibility. They got back a few dates and times, and just like that, the stress melted away. There was a huge relief of letting go of all their previous plans and previous date that they knew they were making the right decision.  
Wedding Vendors
Choosing your wedding vendors should be one of the first things you do when planning a wedding. If you're like Chloe, who is planning a last-minute elopement, there are a few things you can try:
Contact a local bakery.

Chloe called a local bakery they liked, but since it was so last-minute, they couldn't make a custom cake. However, the bakery added flowers to one of their standard cakes. 

Go to your local Grocery Store.

Unfortunately, Chloe couldn't find a florist who was open and even tried the grocery store florist for a last-minute bouquet. So, she found flowers from Trader Joe's and some roses from her friend's garden. 

Watch YouTube tutorials.

You'd be surprised by what you can find on YouTube nowadays. The DIY tutorials turn out great!

Live stream the elopement.

They ended up doing a little Facebook Live in the park across the street from the courthouse. They had friends in the area come out to take some awesome pictures. Chloe said everyone loved watching the elopement on Facebook Live. It was a very sweet and intimate moment."

Don't forget the music.

Their friend booked an outdoor concert violinist to play for their first dance. It was a total surprise for them. Such an awesome idea!
Challenges Planning Elopement Wedding
Planning anything that involves a group of people can be difficult. Chloe said that organizing the Facebook Live was definitely one of the most challenging parts. They really wanted to make sure everyone got invited into the private group and that the live was recording properly. In the end, even that wasn't too difficult. 
Positives of Having an Intimate Wedding
They're favorite part about having an intimate wedding was that they got to focus on what was truly important. Their elopement was so intimate and unforgettable. It's something that will stay in their hearts forever.
Chloe says, "I certainly think it would've been nice to have had our immediate family there. But for the situation we were in, and how frustrated we were getting, it was just the right decision. I feel great about it. We're looking forward to celebrating with family in the future."

Tips for Couples Eloping 
"Do what's right for you as a couple. Listen to your gut. Don't worry too much about whatever one else thinks or wants," says Chloe. In case you forgot, your wedding day is about YOU and YOUR relationship. Don't lose hindsight of why you're getting married in the first place. 
If you're still unsure about your wedding plans, read our most recent elopement articles: Planning a Wedding During a Pandemic, Must-Know Myths About Elopements, and How to Plan the Perfect Home Wedding. For wedding photography in NorCal and beyond, contact Carmen Salazar Photography.