Planning Your Elopement
Some of us have been dreaming about our wedding day our entire life. If you're some of us, you probably have every single little detail picked out already. Everything from wedding attire, to flowers, to cake flavor –  you name it. Don't worry if you're a little behind the planning curveball. Planning a wedding or an elopement is definitely doable if you know where to start. That's why Carmen Salazar Photography interviewed Isabel, a most recent bride-to-be, about her experience planning her elopement wedding. We hope this wedding blog post gives you a little inspiration and insight for your big day!
About Isabel's Love Story 
Originally Isabel considered eloping, but her husband wanted something a little bigger. They had both been married before, and while they went down the road of planning, they felt that it was too much. So, they scaled back. After the Coronavirus hit, they were forced to reexamine their plans. Isabel and her husband really wanted to keep their wedding date of 5/4/2020. So, they started to pull together what they could.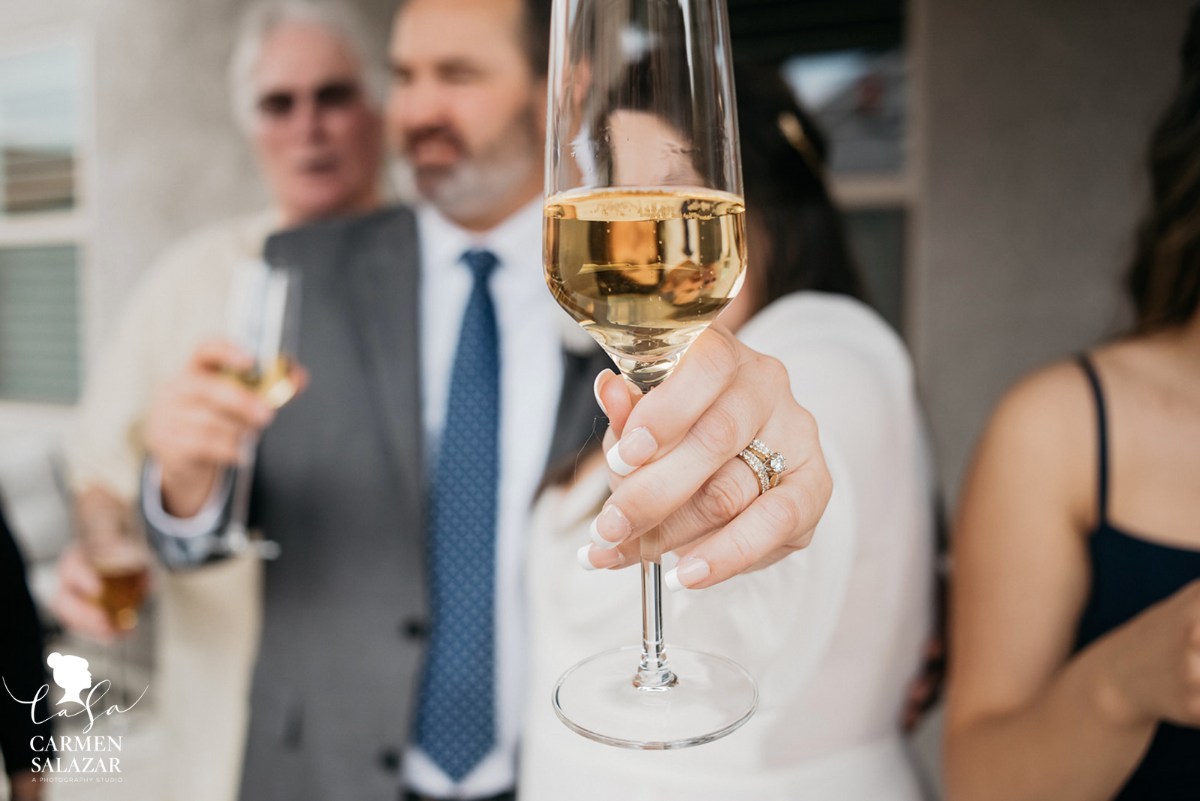 Searching for Elopement Ideas
Finding ideas for your elopement can be difficult when there's so much information on the Internet to rummage through. 
Some of the search terms/topics that Isabel researched during her early stages of planning included elopement, small wedding, backyard wedding, how to ordain your officiant, local officiants (for marriage licenses since courts were closed), DIY wedding vows, and ceremony creation. 
Wedding Vendors
Narrowing down wedding vendors is one of the hardest parts of planning a wedding. Luckily, elopements don't usually call for as many wedding vendors. Since Isabel already had vendors lined up from their original plans, they didn't have much more. 
They did, however, cancel their wedding planner, the big cake they originally ordered, and a few other things. They already had an amazing wedding photographer booked and wanted to do everything they could to keep that. After canceling what they could, they started looking for alternatives. 
Here's what she did: 
Worked with the florist for the bouquet

Called grocery stores for cake options (Safeway in Roseville came through)

Ordered suits from Kohl's + accessories/shoes from Nordstrom 

Found a place to alter dress + suit

Contacted local restaurant for carry-out food order

Consulted with a hairstylist about DIY wedding day hairstyles

Watched DIY wedding makeup tutorials on YouTube
Isabel explained that delivery times were slower, but they managed to order everything just in time. They also explained their situation to folks and were ultimately able to get the basics.
Challenges Planning Intimate Wedding
The challenges Isabel faced when planning their intimate wedding were due to COVID-19. They wanted to be respectful of social distancing and guests' comfort levels. So, they were open, communicative, and had a plan B, C, and D. The hardest part was not having vendors available, especially retail shops and hair and makeup.
Positives of Having an Intimate Wedding
Weddings, big or small, are about celebrating the couple. When we asked Isabel about her wedding day, she said:
"It was truly special! At the end of the day, we were honoring love and family. We were able to pull that off with a very small group of people. We did end up doing a live stream on Facebook for those that wanted to attend, but we could not invite due to the nature of our event and respecting social distancing."
Isabel and her husband genuinely enjoyed their wedding day. She even wishes she had decided to elope from the very beginning!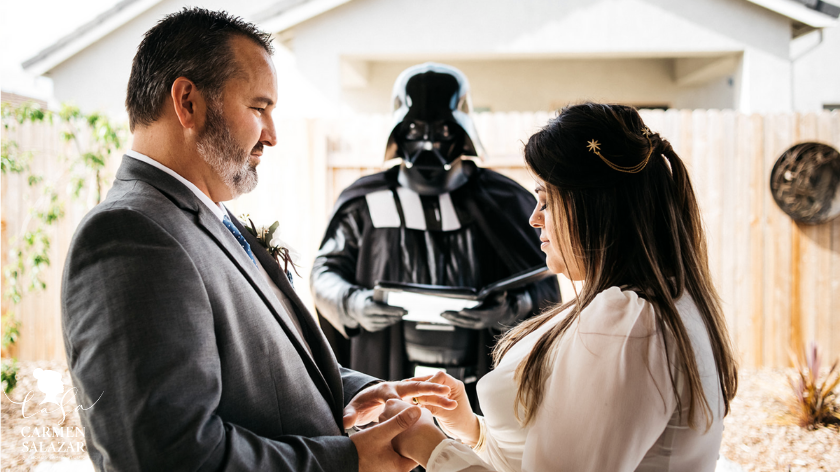 Tips for Couples Eloping
Many couples are on the fence about eloping or postponing their wedding for 2021. Ultimately, the choice is yours. Here's what Isabel has to say about eloping: 
"Just do it! At the end of the day, it's about you and your soon-to-be spouse. It's about your own love and your own story. It's great to celebrate with all others, but eloping doesn't take away from the love you share, or the bond you create when you get married. You can always set something up later to celebrate, or figure out another creative way to involve others. It honestly ended up feeling like SUCH a relief and a lot less stress. I would do it again (to the same man!) in a heartbeat!"
If you're still unsure about your wedding plans, read our most recent elopement articles: Planning a Wedding During a Pandemic, Must-Know Myths About Elopements, and How to Plan the Perfect Home Wedding. For wedding photography in NorCal and beyond, contact Carmen Salazar Photography.