We're never surprised here at Carmen Salazar Photography about the common myths about boudoir photoshoots that our clients have believed. But, we are surprised when they let those myths hold them back from enjoying the liberating and unique experience of a boudoir photo shoot. Here, we list the top three common boudoir myths in the hopes that you'll disregard them and embrace your sexy self!
Myth #1: "I need to have the perfect body to do boudoir"
This one we hear the most often, and it couldn't be further from the truth! All bodies are boudoir bodies and we especially love busting this myth! We believe that every woman is a beautiful, talented, and a sultry individual that deserves to show off her sexiness! We also find that most women feel MORE confident after a boudoir shoot, no matter her body type. Trust us— you're gorgeous just the way you are.
"[I was nervous about] how my body was going to look in the pictures. I think, as women, we are so incredibly hard on ourselves. Carmen truly put me at ease and I felt so beautiful and empowered every step of the way of our shoot." – Miss Sabrina.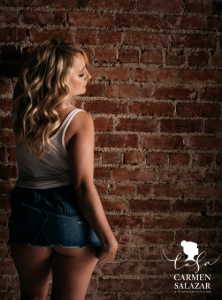 Myth #2: Boudoir shoots are only for brides
Another common myth about boudoir photoshoots that deserves to be debunked. Although boudoir does, in fact, make an excellent gift for brides to give their future spouses, there are countless other reasons why you should consider a boudoir shoot! Whether you are commemorating a huge milestone, celebrating a new baby, or just want to have fun, we welcome you and look forward to giving you the shoot of a lifetime.

Myth #3: You must be comfortable getting naked and posing in "sexy" poses
While we don't mind if women do feel comfortable stripping down to their skivvies and strutting their stuff, we find that many of our clients go a completely different direction— and it's awesome! Whether you prefer to be more covered up in a sweet sweater or sporty-T, we just love catching you in your element and being YOU. You should also feel no pressure to break out the model poses. We are here to give you direction and guidance as you find poses that work for your comfort level, and have often found that women feel more confident as the shoot progresses, getting more adventurous and creative.
The more women we work with, the more passionate we become about making sure that no one believes these common boudoir myths and instead become more confident! Ready to throw away those silly myths and embrace your beautiful self? Contact us today to schedule your boudoir shoot!