How to Feel Confident on Your Wedding Day
Getting some last-minute jitters about walking down the aisle?
Let me just set the record straight: You don't need to change anything about you, girl! You are beautiful and sexy, and your wedding day is your moment for your inner goddess to shine through.
Be confident! I know, it's easier said than done. We can all use some tips and tricks here and there to get us to be the best version of ourselves. Here are some of my favorite tips to feel confident on your wedding day:
What to Wear on Your Wedding Day
Weddings can traditionally come with so many "rules" on what to wear, especially as a bride. However, your wedding day is your big day! Would you rather wear something you think you're supposed to wear or something that makes you feel like a queen?
I encourage any and all brides to wear what makes them feel good! Wear something that makes you feel like the most authentic and beautiful version of you. No matter the length, cut, style, neckline, etc., this choice is all about you and how you'll feel walking down that aisle. 
Fittings = Your Best Friend
One of the best things about investing in a wedding dress or suit is that it usually comes with a squad of tailoring professionals. Regardless of what you're wearing, you want to look good and feel good. There's nothing worse than a dress or suit jacket that doesn't fit or feel right. Wearing something that fits you in all the right places can do wonders for your self-esteem. Don't forget to get your wedding attire fitted not once, but a few times before the big day to ensure that there are no wardrobe malfunctions. 
Depending on what you ate or drank that day, your outfit can fit you completely differently than it did when you initially tried it on. Girl, this is okay! You are human, and our bodies are always changing. Be proactive now and set up a tailoring appointment so that you aren't thrown for a loop weeks before your big day. Get multiple fittings to ensure the most confidence possible!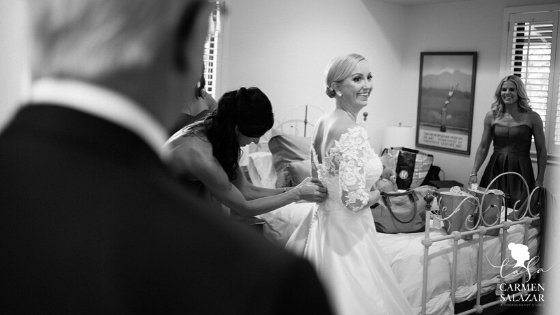 Hair & Makeup Trials
Making sure you love your look (well before the day of!) is extremely vital to your inner confidence.
I recommend getting your hair and makeup done months in advance to make sure you really love the look. If there's even just one thing you're not certain about with your hairdo and makeup, speak up before it's too late! 
Take tons of photos the day you get your wedding makeup and hair done. Live in your look for a few hours just to make sure that it is the exact look you want. 
Try a Boudoir Shoot
There is nothing more confidence-boosting than a glamorous Sacramento boudoir photoshoot with Carmen Salazar Photography. At a shoot like this, you will feel like the queen you truly are. 
We help people of all ages celebrate their undeniable beauty, ignite confidence and celebrate who they are at this very moment in time. We would love to grow your confidence and make you feel like the sexy goddess you are before your big day. A shoot like this is guaranteed to make you feel beautiful, glamorous, and confident in yourself. Not to mention a boudoir look book is the best wedding gift for your partner!
Surround Yourself With Love
Other people can play a huge role in how you view yourself. It is so important to make sure that your guest list is filled with people who bring you and your partner joy, love, and happiness. Anyone or anything else should definitely be nixed. 
Inner confidence is beautiful, and it is so easy to feel confident and amazing when surrounded by all the people who love you and build you up. For this reason alone, it is necessary for your confidence to make sure that your guest list reflects this. 
Confidence is something so internal, and it is so important to feel your best on your big day. We've all got you and we can't wait to get creative alongside you and your fiance. Don't forget that you are absolutely beautiful, and you are going to feel like an absolute queen on your wedding day! If you need a wedding photographer for your special day, contact Carmen Salazar Photography.