Why A Boudoir Book is the Perfect Wedding Gift For Your Future Spouse
Ladies, let's talk about wedding gifts. It's your big day and you are surprising your love with a gift they will cherish for a lifetime. Most blogs will say, to get your partner an engraved whiskey set or a nice watch. Cool, but underwhelming. If you are all looking for the perfect wedding gift for your future spouse, we are a little biased but a beautifully crafted boudoir book is the way to go. The wedding gift to your future spouse is something you'll both remember for the rest of your lives. Here are some great reasons why you should give a boudoir book as a wedding gift to your special someone.
You'll Get Pampered Like The Queen You Are
During your boudoir photography session with Carman Salazar Photography, you'll get the whole package. Get your hair and makeup done by a professional hairstylist and makeup artist. Our goal during your boudoir photography session is to make you look and feel your very best. You'll absolutely love the way your photos come out when you get pampered this way, and it'll be a restorative time for you during all the hustle and bustle of planning a wedding. 
You Have Creative Control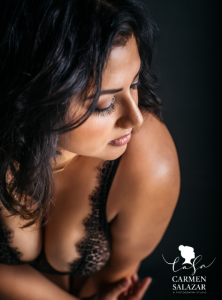 The best part about sexy boudoir photography? Anything goes! Whatever makes you feel amazing, you decide. Whether you want to do topless boudoir, wear lingerie, a robe, button-up, or go fully nude. Whatever makes you feel sexy, empowered, and bold. If you're not sure what to wear, we can help guide you through this process.
Boudoir + Empowered Women 
If you have never had a boudoir photography session before, one thing you should know is you may come in shy but you will walk out confident, sexy and most of all empowered. Our job is to give you the experience of empowerment.
Your boudoir photos aren't just for the eyes of your future spouse, they're for you too. These photos are a testimony of how sexy, beautiful, and fun you are. You get to show off everything you love about yourself to your future spouse. Nothing is more empowering than feeling incredibly sexy in your own skin, and then showing them off as your gift to them. Let's be honest, we all have things we worry about when it comes to our bodies. 
Boudoir is Personal
Boudoir photos are one of the sexiest wedding gifts. Of course, you could give your future spouse engraved jewelry or a sweet love letter, but what's more intimate than sexy boudoir photos shared between the two of you? I've had brides in the past tell me that their partner was completely shocked to receive something so special.
If you've been on the fence about doing a boudoir photography session, contact us. We would love to answer any questions or concerns you may have and will help you create the perfect boudoir book for your fiancé.