When we receive clients interested in boudoir, it sometimes comes with a little hesitation. We get it! You are making yourself vulnerable and trusting us to shine your light from behind the lens. Some women are shyer than others, but we can always see the beauty they have to offer. If we had a superpower, we would say it is bringing out your inner light and capturing that on camera. Here are just a few tips we suggest for you to feel confident about your time in front of the camera and quiet that inner critic!
Choose the Right Outfit, For YOU
We often get asked how to pick an outfit for a boudoir shoot, and our answer is simple and works for everyone: pick something that makes you feel sexy, comfortable, and YOU. We share just a few examples of what you should wear in our FAQ, but ultimately you know yourself best. Whether it's a classy silk robe, a stunning lace set, or a cozy sweater, we want you to feel confident.
Consider WHY
Anyone can do a boudoir shoot, we have found that the most empowering experiences come from women who have a strong WHY. Some women are overcoming an extremely triumphant weight loss journey, while others are surprising their future spouses! Whatever your reason, we support you and want you to focus on your why when any insecurity may creep in.
Pick Out a Mantra
We never want to underestimate how much power it takes for a woman to take part in a boudoir shoot with us- we know it's an honor to shoot and showcase your beauty. But we do know a few tricks to hone in on the confidence that may be lingering under the surface of a hesitant model. We suggest choosing a mantra that will help you feel the most confident. It can be as simple as "I am beautiful" to a lyric or quote that makes you feel your best. Miss Abby, for example, chose the phrase "I Can Do All Things" on her hat to keep her confidence up. 
Just Let Loose & Have Fun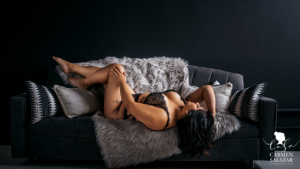 One of the top comments we hear after a sexy boudoir shoot is how fun it was, no matter how nervous a model was when they first came in! Even if you do have nerves, we suggest you push through and just have fun. We'll do everything we can to make you feel beautiful. Tania shares that, "All the ladies made me feel so comfortable…I enjoyed posing more than I thought."
Ready to schedule your boudoir shoot and embrace your confidence? Contact us, and we'll get your photoshoot in the books!