Many couples with big dreams for their wedding day are facing an unexpected reality during this pandemic: the wedding they had envisioned and planned on can no longer happen due to COVID-19 large group gathering restrictions. 
During this uncertain time, it is vital to practice physical, social distancing, but that doesn't mean that you have to totally call off all of your wedding plans. Now, more than ever, couples are in need of creative ways to celebrate their wedding day, all while keeping their friends and family as safe as possible.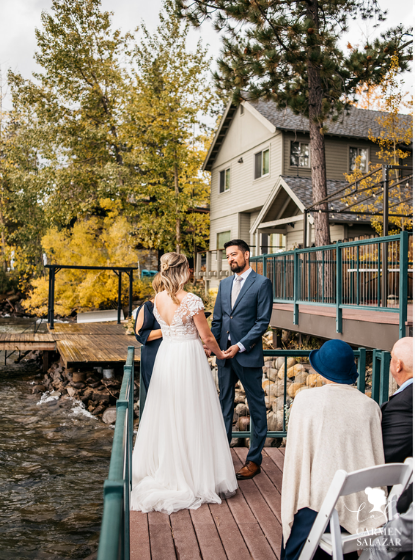 Your wedding is exciting and should absolutely be celebrated. You deserve to have your special day where you feel beautiful and sexy, even if it is a more intimate experience than originally envisioned. We are so excited for all of the amazing couples to finally say "I do" in creative, different ways over the next few months. If you're in need of some ways to re-arrange your wedding plans, look no further! 
Most couples have big dreams for their wedding day. Unfortunately, COVID-19 has forced couples to either postpone their 2020 wedding or get creative with social distancing. Although your wedding day may not be going as originally planned, there is still hope for you to have the wedding of your dreams – just in a more intimate setting, of course. 
It's a crazy time, but we're excited to see couples finally say "I Do" in a new and exciting way. If you're wondering how to get married during the coronavirus, look no further!
Drive-By Wedding
Wanting to keep your 2020 wedding date while still including loved ones at the celebration? You can do both! A Utah couple was one of the first people to implement a drive-by wedding. They simply invited their friends and family to attend the wedding ceremony without leaving the comfort of their cars. 
These two lovebirds got married outside in front of 30 cars, each filled with their dearest friends and family. They were able to watch a beautiful ceremony from a safe, social distance. These two had a ten-minute, intimate, and beautiful outdoor ceremony surrounded by the unwavering love and support of all those closest to them. Their photographer remained six feet apart, and still captured the beautiful couple and their loved ones. 
A drive-by wedding is a perfect and creative way to say, "I do." Celebrate your big day in front of your friends and family. It'll definitely be a wedding you can't forget.
A Small Intimate Home Wedding
A home wedding could be the best option for you when considering a smaller sized wedding! Many couples around the world are opting out of big, venue weddings and choosing to celebrate their day in a more intimate setting.
With proper planning, a home wedding can be even more beautiful and magical than a venue wedding. Not only do home weddings save couples a lot of time and money, but it also creates life-long memories in a place they hold near to their heart. A home wedding doesn't necessarily mean DIY or low budget. Of course, you can still put money towards other parts of the wedding like catering or wedding photography. With a small group, you can have a dreamy, intimate wedding in a safe and comfortable place that you get to call home. 
Live Stream Your Wedding 
Another creative trend many of us are seeing during the COVID-19 outbreak and wedding season is live streaming. Many couples are resuming with their initial wedding plans, just forgoing the in-person guests. With a proper laptop or camera, one can easily Live stream their wedding ceremony just by sending out a Zoom invite to all of the guests. This way, you are still able to have a beautiful wedding, but through the safety of a camera lens.
Many marriage officiants are more than willing to marry couples online during these uncertain times! Create a big call with your loved ones, invite your wedding officiant, and you could even have a photographer (six feet away, of course) snap your special moment!
Of course, you can always make plans to celebrate your wedding with your loved ones in-person when the social distancing blows over. If you decide to tie the knot over a video call, maybe consider planning a vow renewal ceremony or a big party in the near future. 
Celebrating Your Big Day During the Pandemic
Planning a wedding is supposed to be a fun and beautiful time! Don't let the coronavirus get in the way. Your wedding day can still be just as sexy, intimate, and wonderful as you had originally imagined. With the digital world we are living in, it is so easy to connect online with others virtually, whether it be your guests or the people helping you create the wedding of your dreams. 
If you are looking for any tips on how to plan your social distancing wedding, visit How to Plan Your Wedding During a Pandemic to read more details on wedding venues and local services! You can easily book amazing Sacramento services (such as wedding planners, wedding gown vendors, DJs, florists, etc.) that are all willing to help you plan your wedding online.
We can't wait to see all of the beautiful and unique weddings! If you're in need of a NorCal wedding photographer, contact Carmen Salazar Photography. We can chat about making your wedding dreams come true.